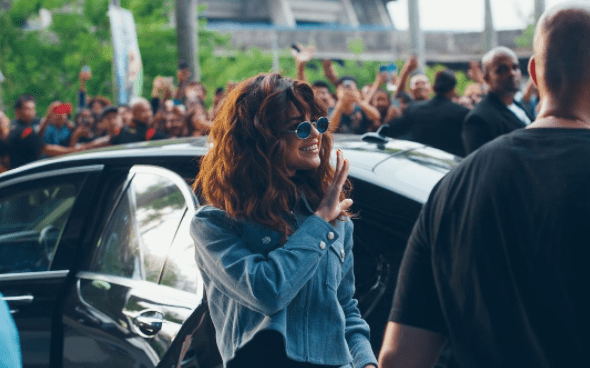 15 May

9 People Who Could Dethrone Selena Gomez as 2017's Queen of Instagram

It's a cutthroat world out there in Instagram-land. Everyone from your dog to your mom to your favorite microwaveable mini calzone has a presence on IG, and with 700 million monthly active users, there's no sign of your favorite meme account's follower growth slowing down.

That's not to say your favorite account that makes the most delicious-looking acai bowls that you'll never be able to recreate's audience will grow to @SelenaGomez's level, but a bowl can dream.
Speaking of Ms. Gomez, the actress, singer, U.N. Ambassador and most importantly, 13 Reasons Why Producer, is officially the second most followed person on Instagram. I know, I know, the title of this article says she is the Queen and it's true! She's only second to the King, His Highness @Instagram himself, who as an inanimate object has no stake in this game.
But who can (or will!) rival Selena's meteoric rise to the top of our collective feed? Check out the list below to see her competition. 
With her high ponies and cat eyes, is there any reason Ariana Grande isn't close on Selena's tails? At 105 million followers, she's a paltry 15 million from dethroning the Queen.
2. @TaylorSwift
Taylor, Taylor, Taylor. Lately, she's been laying low, but this girl is one post with a new flame away from making the world combust into tiny little pieces.
3. @Beyonce
I think we all know that the minute those twins arrive, Beyonce's current following of 101 million will triple. (It's just simple math, people.)
4. @Cristiano
We need a little testosterone on this list, and Cristiano Ronaldo has graciously offered his assistance! With 100m followers and abs cut by Michelangelo, this guy could be the one to seize the throne.
5. @Kardashian/Jenners
While Mrs. West is the real leader here with 99.8m followers, it physically makes me ill to deny Kylie, Kris and the rest of the fam a spot on this list. Don't think we forgot about Rob —someone's sock line has to keep the lights on in Calabasas amiright?
(PLEASE NOTE: Thanks to my intense research I can exclusively [Ed. Note: not exclusively] reveal that Kylie is a mere 6.2m followers away from overtaking Kim. It's been nice knowing you, world.)
It's the tattoos and gentle sounds of peeing in a bucket that keeps people coming back for more. That equals out to 86.5m followers for old Justin.
7. @TheRock
More Pikachu for your 86m followers, plz.
8. @NickiMinaj
What does Nicki think about her chances of becoming the most followed person on Instagram?
9. @NatGeo
Bringing up the rear here we've got National Geographic with an astonishing 77m follower count. And with content like this, is there any surprise? 
Who do you think will take the cake? Tweet us @Socialfly and let us know!