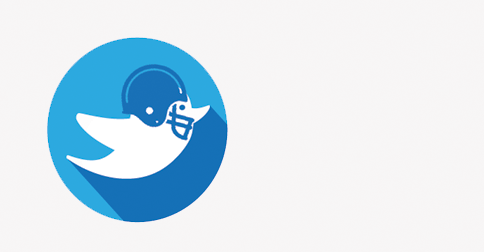 27 Oct

NFL Teams Will Now Be Fined for Posting Videos and GIFs During Games

Flag on the play! The National Football League (NFL) just announced a new policy regarding social media that will most definitely cause quite a stir amongst the 32 teams and their loyal, dedicated fan bases.

According to "league memos obtained by ESPN," the league's new social media policy, which took effect October 12, bans all video-based content from being posted online during games. This means no more Facebook LIVE or Periscopin' during air time. Previously, NFL teams have posted behind-the-scenes footage from the fields and locker rooms on their social channels. These pieces of content were favorites amongst fans, as they gave them a first-hand look at what it's like to experience these pre-game activities as if they were really there.

Perhaps the most inconvenient part of this new policy is that teams will not be allowed to post game highlights, whether it be videos and/or GIFS, from "kickoff until 60 minutes after the game." However, not all video content is lost! The official NFL channels will be posting select video highlights which all teams will have the liberty of repurposing and/or retweeting.

How will this hurt social engagement on game time posts? Let's take a look:

When Seattle Seahawk Bobby Wagner blocked an Arizona field goal attempt, the @Seahawks account was able to tweet this:

While the official @NFL account tweeted this: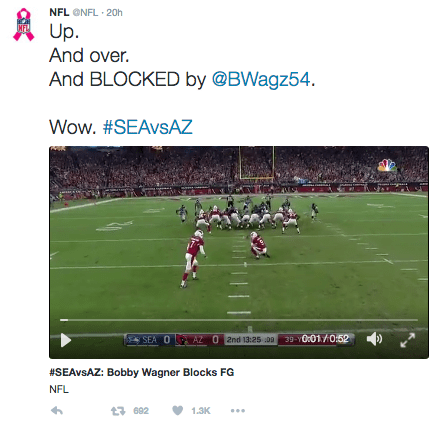 The real-time video highlights are definitely much more exciting and generate more engagement than a still image from the action, which is why I think this change is a major loss for NFL teams. However, it does require the social media teams of these accounts to get creative, so I look forward to seeing what they come up with in the coming season!
What do you think? Will this new policy hurt TV viewership and/or live stream views? Or will it force fans to tune in to the NFL's social channels? Will the 32 teams have to think outside of the box to grab the attention of fans during game time? Let us know your thoughts on this change in the comments below!